Yatra in India: a spiritual journey of self-discovery
Delhi, Rishikesh, Haridwar, Hemkund, Badrinath, Amritsar, …
Tantric Shelter, on the path of the yogis
Each AAA Yatra is a unique experience and each time an important step in a spiritual path. This Yatra is accessible to everybody: those who have never practiced Kundalini Yoga or beginners, experienced practitioners or teachers. The program is adaptable depending on what you want to experience. You can enjoy this journey at your own pace and your own rhythm.
Yogi Bhajan organized a first Yatra in 1970, first time he went back to India after his departure to Canada and then the US. This first Yatra had a huge impact on how his teachings would developed in the future. It was a time where the teachings took a new shape, from a clear and deep personal connection to Baba Virsa Singh to a more impersonal connection to Guru Ram Das!
"Traveling across India, I find the way back to my soul, the way back home."
– Chen Liaoliao, China
"The Yatra to India was a simple and peaceful way back to my roots. Every place we passed by, we met very kind people. Amritsar is a divine city with a high spirit. I like the light in Indian people. Their piety touched my heart directly. All my doubts and worries were all finally relieved. I will go back."
– LiYing, China
"With the grace of Guru Ram Das, my soul was consoled and comforted. I am grateful to have met kundalini yoga on my spiritual path."
– Zail Kaur, China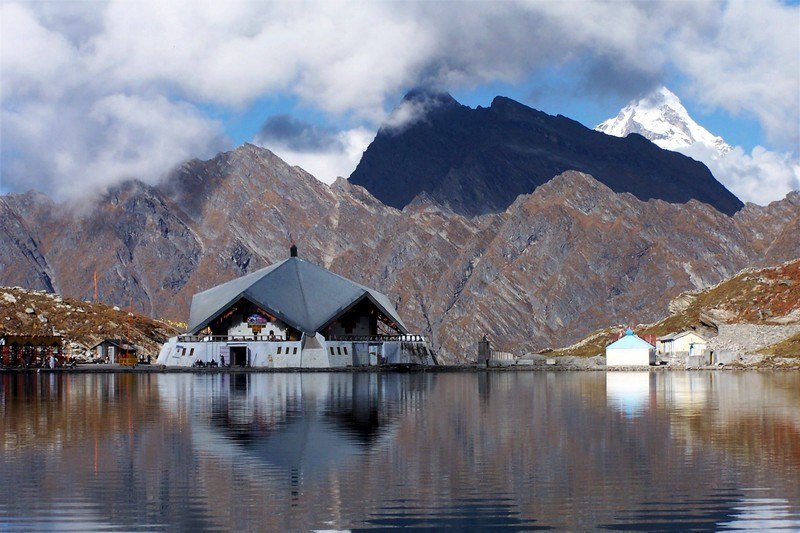 Intention
Our next Yatra in July 2020 is called "Tantric Shelter, on the path of the yogis …". We will spend some days in the Himalayan Mountains exploring and meditating in sacred sites. We will experience the connections between the Sikh Dharma and the Yogis. We will practice together kriyas and meditations to help us to connect to the frequency of these spirituals sites, expand our radiant body and taste the tantric energy. It is a journey of transcendance and transformation. We will finish our journey at the Golden Temple, infusing our cells with the Shabd Guru.
It is open to all.
Your Yatra will be Guided by Satmukh Singh and Sat Sarbat Kaur, supported by Fateh Singh and Inderpal Singh.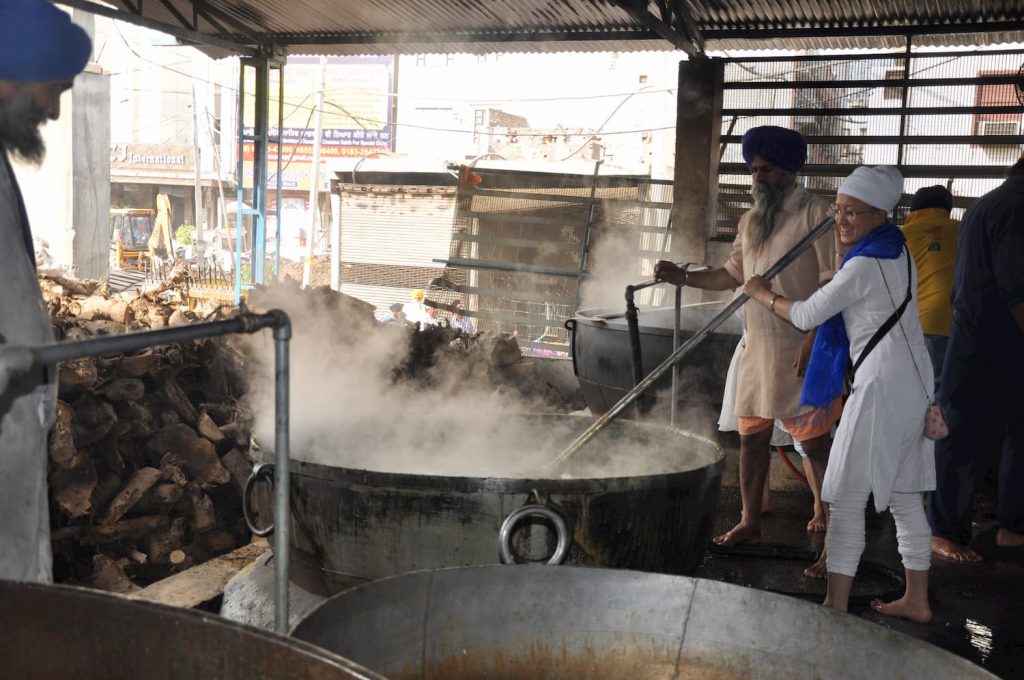 Dates & itinerary
2020 July 14-27 (Cancelled due to COVID!)
Meeting point on the evening of July 14 in New-Delhi. End on July 27 morning in Amritsar.
(14 nights/days)
14/07. Arrival in New Delhi – meeting point in the evening 5 pm – Night in New Delhi
15/07. Visit Gobind Sadan, New Delhi
16/07. Morning in New Delhi. Train to Rishikesh.
17/07. Day in Rishikesh.
18/07. Bus from Rishikesh to Rudraprayag (5-6 hrs).
19/07. Bus Rudraprayag to Gobindghat (5-6 hrs). Lunch at the Gurdwara in Gobindghat. Jeep to Pulna (2 hours drive). Trek for 5-6 km (1-2 hours). Night at Ghangariya.
20/07. Gangariya (early departure) – Trek to Hemkund and back to Gangariya.
21/07. Gangariya – Trek around the Valley of flowers and back to Gangariya.
22/07. Gangariya to Gobindghat and then bus to Badrinath (1h20 – 25 km by bus). Visit in Badrinath. Stay in Badrinath.
23/07. Morning in Badrinath, bus to Rudraprayag.
24/07. Bus from Rudraprayag to Haridwar (5-6 hours). Afternoon visiting Haridwar. Night train to Amritsar.
25/07. Arrival in Amritsar early morning. Day at the Golden Temple.
26/07. Amritsar – day in Amritsar
27/07. Morning in Amritsar – – END of the yatra
We can support you to stay longer in Amritsar or to go to Goindwal for the 84 steps Japji meditation.
Places visited
NEW DELHI, GOBIND SADAN
Rooted in the Sikh tradition and the universal teachings of its Gurus, Gobind Sadan, "God's House Without Walls," is an international interfaith community currently with centers in India, and in the U.S., which has grown out of Baba Virsa Singh ji's vision for world peace. Gobind Sadan offers sacred material from all traditions for contemplation. Before going to the US, Yogi Bhajan spent time with his family at Gobind Sadan. The first years of his teachings, Yogi Bhajan recognized Baba Virsa Singh has his master. In Gobind Sadan, a fire has been maintained for 15 years. Gobind Sadan offers sacred material from all traditions for contemplation.
RISHIKESH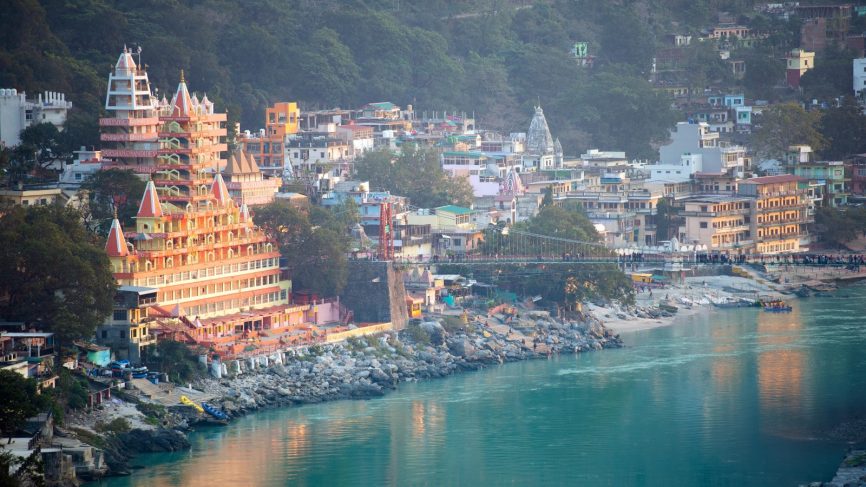 – Mecca of Yoga
It is known as the pilgrimage town and regarded as one of the holiest places in India. Many Sages and Yogis have visited Rishikesh since ancient times to meditate in search of higher knowledge. Rishikesh is adorned with traditional divinity and peacefulness. Perched on the foothills of the glorious Himalayas and encircled by the sacred river Ganges in the Indian state of Uttarakhand, the town serves as the perennial magnet to all the yoga and spirituality seekers, and adventurers across the globe.
HARIDWAR
Haridwar is one of India's seven holiest cities. Its name means Gateway to God. The city straddles the sacred Ganges River in the Himalayan foothills. It is one of the oldest living cities in the world. The largest of several sacred ghats (bathing steps), Har Ki Pauri hosts a nightly Ganga Aarti (river-worshipping ceremony) in which Sounds of mantra fill the air and candlelit lamps illuminate the river.Pandits (Hindu priests), pilgrims and sadhus (holy men) bathe in the river's spiritually cleansing water. Haridwar's resplendent temples offer many places of devotion and worship.
HIMALAYAN MOUNTAINS
Himalayan mountains are a sacred place to meditate. They are still alive, growing every year a few centimeters. They have been an attraction for spiritual seekers. It has been a place to seek truth. The Himalayan mountains count 72000 shrines, like the 72000 nadis (energetic pathways) in human beings. We can see these mountains as a manifestation of a livingbeing, like our ownself, an access to contact the universal consciousness. On the path of the Himalayan mountains, we come across stories, memories, energetic vortex, … to access a deeper knowledge and experience about ourselves and life.
VISHNU PRAYAG
It is the confluence of Alaknanda River and Dhauli Ganga River. According to Vedic scriptures it is the place where Yogic sage Narada, the founder of Bhakti Yoga meditated. It is believed that at this confluence there exist a point through which the ancient ones used to travel to the land of Demi Gods.
SHRI HEMKUND SAHIB
According to the legend of ancient India there was a great Yogi in the Golden Age. His name was Rishi Dushat Daman. Born as king he had left his empire to search for the truth within. He meditated for 4 ages on the mountain top of Hemkund in the Himalayan range.
"At that place there sat a man who meditated. In his own words he became One with God and God became One with him. He is a role model. It's no lie. And God told him, "Go back to the world again at my request." – Yogi Bhajan http://www.sikhnet.com/news/celebrating-guru-gobind-singh-ji
The Puranas, the oldest annals of human history, mention Rishi Dushat Daman with great reverence as the primal sage, and even the Devas longed for his presence. Siri Hemkunth Sahib is like the 10th gate of Mother Earth. When an enlightened being spend so much time at the same place, his energy resonates for many centuries in that space (in trees, in stones, in lakes, in mountains, …).
According to Yogi Bhajan, Rishi Dushat Daman in his radiant body meditated on this mountain for 3.5 billion years. He mastered all forms of yoga known and unknown to humanity. His presence was so radiant that his aura extended 25 miles. Many seekers would come just to be in his presence. His very presence would bloom their hearts and give them an experience of the Universal Mind. He spoke very little as he was always in Samadhi – a state of being where the sense of the personal self has dissolved into the universal self. Much of his teachings were conveyed in Shunya – silence.
Having found his realization within, he reincarnated back in the Iron Age to guide the humanity. Born fully enlightened, he was 9 years old when he was declared as the 10th Guru of the sikh lineage. He became known as Guru Gobind Singh – a warrior, a saint, a poet, a householder and a yogi.
It is recorded in the holy Granth Sahib that the tenth Guru of Sikhs, Guru Gobind Singh mediated on the serene banks of Hemkund in one of his earlier births. Guru Govind Singh is believed to be the Guru who founded all present characteristics of present Sikhism.
The Gurudwara of the Sikhs on the banks of Hemkund is located at the place where Guru had meditated. Huge flocks of Sikh pilgrims pay their visit to this Gurudwara every year.
SHRI HEMKUNDSAHIB is today an important pilgrimage destination for Hindus and Sikhs. Hemkund is at the breathtaking Lokpal lake located at an altitude of 4329 m from the sea level. Sikhs consider this as a sacred region with one of the famous Sikh Gurudwara placed in the heart of the region. A Hindu shrine dedicated to mythological hero Lakshmana is attractive for Hindu Pilgrims. This temple is built on the banks of Hemkund.
Hemkunt Sahib is nestled amidst seven snow-capped peaks and marvelous snowy glaciers. Nature is reflected here with all its mighty appearance in the crystal clear alluring water. Hemkund lake is fed by the glaciers from majestic peaks known as Hathi Parvat and Saptrishi peaks. A small stream known as Himganga originates from this imposing lake.
VALLEY OF FLOWERS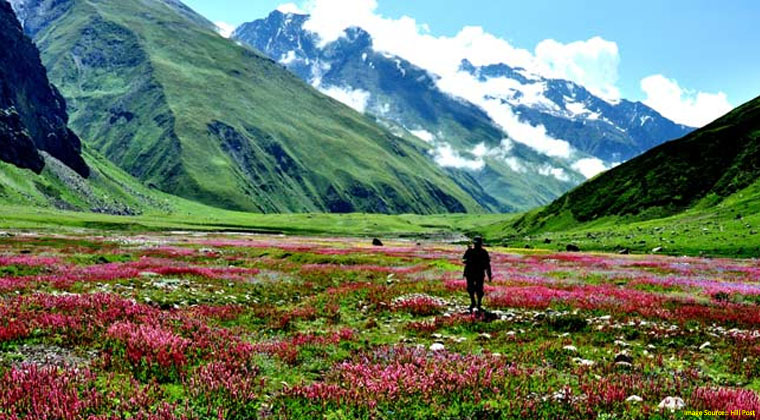 Valley of Flowers is a vibrant and splendid national park reposing near Hemkund. This alluring place is famous for its charming meadows of alpine flowers. Endowed with a diverse range of endemic flora, it is picturesque in its beauty. This lush region is also home to some rare and endangered animal species. Legends believe it to be the place from where Hanuman had collected the plant Sanjeevani buti fro reviving Lakshmana. The best time to visit is from mid July to mid August, when the flowers are in full bloom after the first monsoon rain.
It is said as well that the Valley of Flowers was a gift from the higher beings (Devas), to Rishi Dushat Daman. These were the flowers that were showered upon him on the day of his realization. These flowers remind humanity of this Yogi, who out of compassion took another birth as Guru Gobind Singh to help humanity understand their dharma.
BADRINATH TEMPLE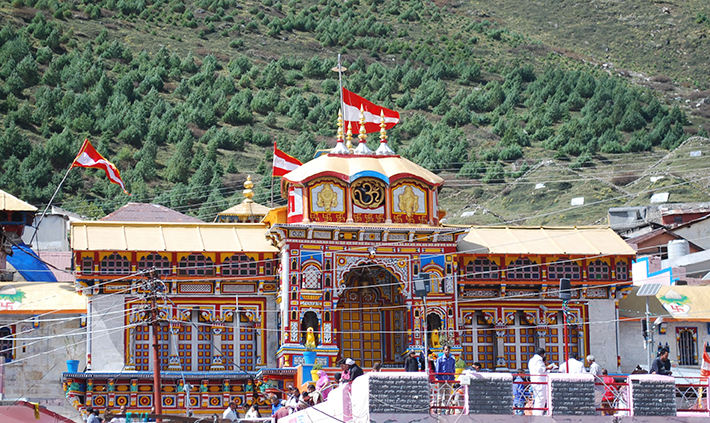 Badrinath temple, dedicated to Lord Vishnu, is one of the sacred four ancient Hindu temples are regarded as the spiritual sources of four holy rivers: the Alaknanda River at Badrinath temple, the Ganges River at Gangotri temple, the Yamuna River at Yamunotri temple and the Mandakini River at Kedarnath temple. Hindus believe that visiting these temples will wash away their sins and help them attain moksha(release from the cycle of death and rebirth).
Badrinath is also one of four sacred Char Dham abodes of incarnations of Lord Vishnu that are spread across India, in all four directions. Badrinath temple sits at approximately 10,200 feet (3,100 meters) above sea level in front of imposing Neelkanth Peak, between the twin Nara and Narayana mountain ranges. There are numerous references to Badrinath in the post-Vedic texts, the Puranas,which narrate stories about the creation of the universe. The "Bhagavata Purana" states that Lord Vishnu, in his incarnation as the twin sages Nara and Narayana, had been undergoing penance there for the welfare of living entities "since time immemorial." In the epic "Mahabharata",these two sages incarnated as humans Krishna and Arjuna to help mankind. Apparently, Lord Shiva initially chose Badrinath for himself. However, Lord Vishnu tricked him into leaving (he went to Kedarnath temple).
NARAD KUNDin Badrinath
This hot water spring is one of the most revered places of Badrinath. As per a Hindu legend, it is said that Narad Muni wrote Narad Bhakti Sutra here. Hence, this place was named after him. The water in Narad Kund remains hot in spite of being encircled by snow-capped peaks.
GANESH GUFA
… yogic transmission, near Badrinath, in Mana Village
Ganesh Gufa isthe cave where its believed that Lord Ganesha wrote Mahabharata as dictated by Rishi Vyas. The Ganesh Cave is located close to the famous Vyas Cave. The cave is surrounded by lush green meadows and beautiful temples. A small temple is located near the Ganesh Gufa.
YOGADHYAN BADRI

… between Joshimath and Badrinath in Pandulkeshwar
TheYog Dhyan Badri is an experience of a lifetime. It is located near the Badrinath Temple. Myth holds this place to be the birth place of the Pandavas. According to legend, King Pandu is said to have installed the bronze image of Lord Vishnu at the temple. The deity has a meditative stance, hence the name 'Yog Dhyan Badri.' The life-sized deity has been made out of Shaligram stone.
AMRITSAR
The city of Amritsar was founded by Guru Ram Das and completed by his son Guru Arjun. Several stories indicate that the grounds always have been a place of high spiritual power.
Still living in India, Yogi Bhajan would clean the marble floors of the Golden Temple, which is done as seva (selfless service) in the very early morning hours. After that he would resume his work as a custom officer. Yogi Bhajan would refer to that time as a deeply transformative period in his life.
We will spend some time at the Golden Temple, bathing, doing seva at the langar, meditating on the Shabd Guru.
If you wish to continue on your own, we can help you to organize your trip to GOINDWAL AND THE 84 STEPS
It is said that those who recite the Japji once at every step of the stairway down to the well under the Gurdwara will be freed from the 84 lakhs (8.4 millions) life times destined for every being in creation.
This intense meditation is considered to be one of the most popular among Kundalini Yogis and Yoginis as well as Punjabi Sikhs. Since people who have never been at Goindwal and look forward to doing this meditation for the first time usually have a lot of practical questions, we will provide some descriptions, advices, and answers to FAQs.
About the 2 days of trekking
Govindghat is located at 1823 m high. We will walk one afternoon to Ghangariya at 3049 m high – 14 km. From Govindghat to Ghangariya, we will walk 4/5 hours.
Hemkund is at 4633 m high. From Ghangariya to Hemkund, we will leave very early, around 5 am. We will reach hemkund around 12 am. We will come back around 3 pm. It will take 3,5 hours to walk down to Ghangariya. Possibility to be carried up and down at your charge.
The valley of flowers 4300 m high. From Ghangariya to the Valley of Flowers, we will leave around 5 am, walk about 3,5 hours and stay there for a while and meditate. We will come back on the evening.
Each person will have to carry some food and some water and some clothes to change.
The temperature/weather: it might rain since it is the rainy season. In altitude, it is chilly. In Ghangariya, it will be around 7-9 degree at night and 15-16 degree during the day. In Hemkund, it will go down to 10-12 degree during the day.
"India impressed me deeply. This Yatra connected me to a community with great love. It led me to the spiritual practice of kundalini yoga."
– Jie MingNan, China
"The Yatra left a deep imprint on me. I found the divinity and a home for teachers there. I began to understand what is to give and what is to sacrifice."
– Dharamjot Kaur, China
"A place where the souls meet. And also a very well organized journey."
– ZhenYi, China
"I could connect to the core of Yogi Bhajan's teachings, the source of Sikh Dharma. I felt blessed to merge in this traditional teachings"
– Dhyan Dharma Kaur, China
Costs
Full price: 1780 Euros
Early bird (before 31/01/2020): 1480 Euros
If you book after the 31/03/2020, the price might be higher depending on the cost of one domestic flight which is included within the price.
The price INCLUDES:
* All local transportation for the whole journey (from New Delhi on the first day to Amritsar on the last day). From Rishikesh to the Himalayans Mountains (Hemkund, Valley of Flowers, Badrinath, …), we will travel in 12 seat-minivans with air-conditioning to shorten to the maximum the transport time and guarentee some comfort.
* All pilgrimage activities and visits.
* Food (vegetarian diet, alcohol free) and lodging (comfortable hotels, shared double rooms, and 3 nights in a simple accommodation in the mountains).
The price DOES NOT INCLUDE your international flight to New Delhi.
BOOK NOW, number of places limited!
In order to book:
1) Fill in the registration and liability forms and send them back to us with a copy of your international health insurance.
2) Payment by transfer or Paypal:
Please Contact us.
Fateh singh is a Yogi, healer and teacher trainer who lives in France. He started Kundalini Yoga in his early twenties. Inspired and truly grateful to have found such a treasure, he became a teacher in 2003.
Sat Sarbat is a KRI Kundalini Yoga Lead Trainer Level 1 and 2 and Mentoring Lead. She offers KRI teacher trainings in several countries in Asia, Australia and Europe.
Satmukh Singh is a Kundalini Research Institute certified Kundalini Yoga Lead Trainer for Level 1 and Level 2 programs, and Mentoring Lead. He founded Ajai Alai Awakening with Sat Sarbat Kaur.