Deep meditative experience to clean your subconscious and remember who you have always been, with Sarbat & Satmukh, ENG & SERBIAN
About this event
LANGUAGES: English translated into Serbian
The rebirth workshop aims at developing a subtle sensitivity to your being. Your sensitivity is necessary to experience a sense of completeness and oneness within yourselves. The energy that you once used to get validation from outside, will be available to attract what you need to make your unique contribution to the world. As you establish a sense of your own identity and your self-authority, your destiny will unfold.
The rebirth workshop is an opportunity to clean your subconscious in depth and find a source of creativity that might have disappeared from your life long ago, buried under your mind constant chattering. You will connect back to your physical body opening yourself to a new vitality.
Informations
February 11 : 19.00 – 22.00
February 12 : 5.00 – 7.30 | 10.00 – 13.00 | 15.00 – 18.30
Price : 108€ | 88€ | 80€
More information : level1serbia@gmail.com | www.natasavukoje.com
Why join the Rebirth?
* An alternative to the White Tantra for your certification Level 1 Teacher Training
* A deep meditative & cleansing experience
* An encounter with your deepest self
Each Rebirth workshop includes a minimum of 6 hours meditation.
OUR SCHOOL
NON-PROFIT ASSOCIATION, ZVR-Zahl: 1875752181
Your Teachers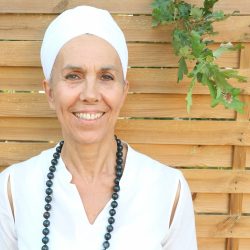 Founder & Lead Trainer
Sat Sarbat is a KRI Kundalini Yoga Lead Trainer Level 1 and 2 and Mentoring Lead. She offers KRI teacher trainings in several countries in Asia, Australia and Europe.
Founder & Lead Trainer
Satmukh Singh is a Kundalini Research Institute certified Kundalini Yoga Lead Trainer for Level 1 and Level 2 programs, and Mentoring Lead. He founded Ajai Alai Awakening with Sat Sarbat Kaur.