The Level 1 introduces the student to the principles and practices of the self-sensory human, and explores how Kundalini Yoga and yogic lifestyle can harmonise and uplift the human experience and awaken your true potential.
KRI Kundalini Yoga Teacher Training LEVEL 1
The Immersion is a KRI Level One Aquarian Teacher Training Program. The Level 1 is a 220-hour professional certification program in Kundalini Yoga as taught by Yogi Bhajan®. An interactive course in the theory, practice, and basic skills of a Kundalini Yoga instructor, it includes 180 hours of classroom instruction and 40 hours of independent study: service projects, a 40-day meditation, and White Tantric Yoga. Graduates of Level One earn the title of KRI Certified Instructor of Kundalini Yoga as taught by Yogi Bhajan® and fulfill the Yoga Alliance RYT (Registered Yoga Teacher) 200-hour requirement.
When & Where
May 01-28, Yuhu village, LIJIANG, Yunnan, China, at the footstep of the Himalayan Mountains.
Starts on May 1 at 10:00 AM and finishes on May 28 at 4:00 PM
Yunnan is a place of diversity located in high altitude. Many minorities have still kept their traditional way of life. The landscape is amazing, nourished by very particular climate influence by the Himalayan Mountains in North-West and a tropical climate in the South.
May is one of the best time to visit Yunnan, with dry and shiny days 🙂
The Immersion Experience
A 28-Day Journey to the Self and the Soul
* Answer the call, nourish your longing to belong,
* Dive Deeply into a yogic experience,
* Take a break from your daily life in a stress-free environment,
* Expand your inner silence to touch your infinity,
* Become a Kundalini Teacher.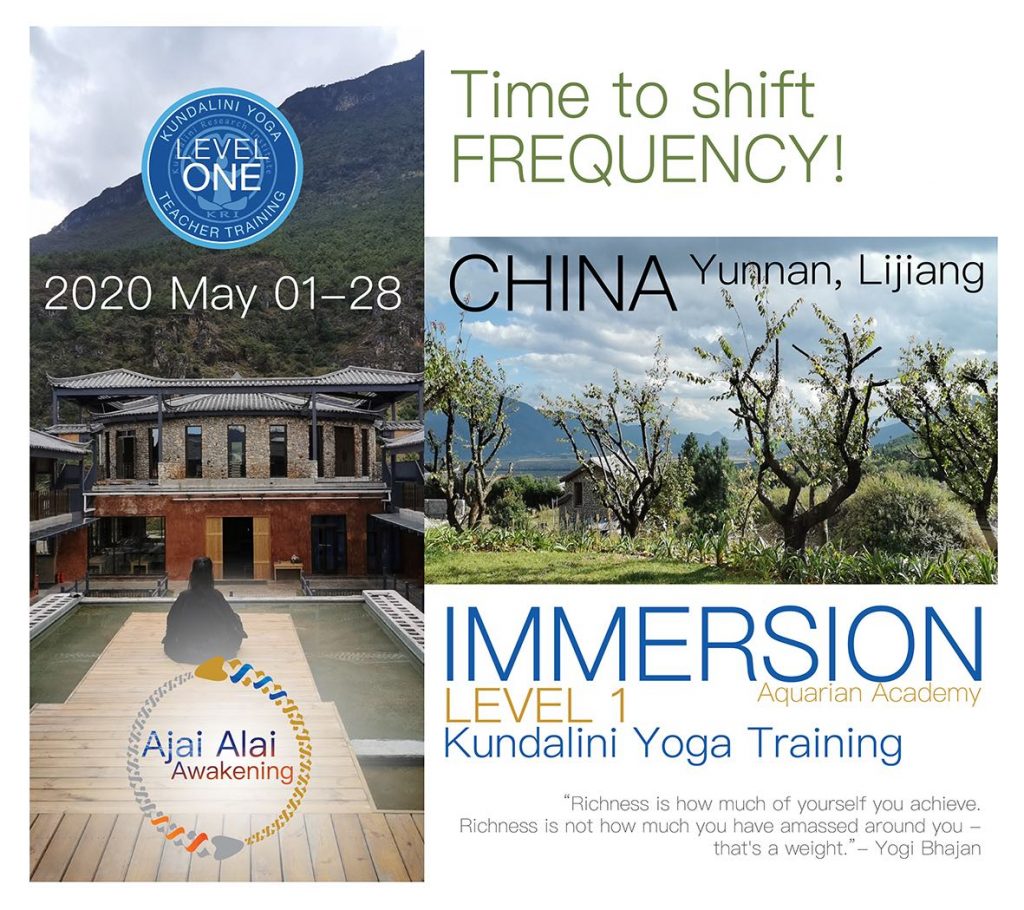 Dive Deeply
"Going all in" means putting all your cards on the table—not holding back anything. That is the essence of the Immersion Experience: remove yourself from your daily routines, your patterns, your limited identity and dive in—discover your True Self—Sat Nam!
Focus — Free from the distractions of daily life
Integration — Merge the body, mind and spirit
Transformation — Experience your potential and deliver your destiny
Taste the Good Life — Vegetarian food, beautiful music, and mutual support and tolerance of like-minded practitioners—the community Experience
Experience Group Consciousness — Amplify your awareness through the power of community
Cultivate Relationships — Make life-long friends from different cultural backgrounds
Build your foundation through the practice of yoga and deep meditation: 2 1/2 hour daily morning sadhana, 2 1/2 hours of Long Ek Ong Kar to awaken your identity and experience your Infinity; 2 1/2 hours of the Master's Touch Meditation to experience the subtle body of Yogi Bhajan and your link in the Golden Chain of teachers; yoga kriyas, meditations, chanting, and more!
Become a Kundalini Yoga Teacher!
Within you is a seed—the call of the soul—answer it. Deliver yourself to your highest destiny—become a Teacher—and serve the Aquarian Age with consciousness, love and grace. Apply your character and your commitment to the cultivation of peace and harmony all around the globe.
Your journey begins here… take this first step. This dynamic three-tiered program is the most unique and experiential yoga certification program available anywhere!
Whether you wish to deepen your personal practice of Kundalini Yoga as taught by Yogi Bhajan® or long to become a certified Kundalini Yoga Instructor, the IMMERSION is your starting point.
There are six principle components in a Level One program
Kriya and Meditation: The foundation of Kundalini Yoga as taught by Yogi Bhajan®
The theory and practice of Kundalini Yoga kriyas (yoga sets), asanas, and mudras. Explore the nature of the mind and its training through Kundalini Yoga meditations, mantras, and pranayam (breathing techniques).
Humanology and Philosophy: The Lifestyle of a Kundalini Yoga Teacher
The history and tradition of Kundalini Yoga, as well as the underlying philosophy behind all yogic practices. The technologies of Kundalini Yoga as they apply to healing and humanology (the science of daily living), including diet, nutrition, and relationships.
Anatomy & Physiology: Essentials of Yogic and Functional Anatomy
Traditional Western anatomy, its purpose and function, including the respiratory, nervous, immune, musculoskeletal, circulatory, endocrine, and digestive systems and their relation to the practice and teaching of yoga. Also Yogic anatomy and the energy systems of the body including the chakras, nadis, pranas and vayus, and the ten yogic bodies.
Consciousness of a Teacher: Virtues and Values of Living in the Golden Chain
The skills and techniques to become an effective instructor, including practical strategies for teaching beginners, ethical guidelines, curriculum development, and the transformational role of the teacher in developing a successful yoga practice.
The Master's Touch: Cultivating a Connection to the Master
Connect with Yogi Bhajan through DVD classes and study.
The Practicum: An experience of Teaching
Practical experience instructing a yoga class under the supervision of a KRI Yoga Teacher Trainer, receiving feedback.
Trainers for this Level 1
LEAD TRAINERS: Sat Sarbat Kaur (Italian), Satmukh Singh (French) & Sangeeta Kaur (Chinese)
PROFESSIONAL TRAINERS: Dharamjot Kaur (Chinese)
LOCAL TRAINERS: a team of about 10 to 15 local trainers.
Practical
Costs
Teaching fees*
NORMAL PRICE: 2990 Euros
EARLY BIRD: 2690 Euros (before 31/01/2020)
(*) Fees for all countries except China, Taiwan, Hong Kong, and Singapore.
Food and lodging
300 RMB/day – 27 nights = 1030 Euros (shared double room) for the whole period. Extra night costs 200 RMB (25 Euros including BK).
Your international flight to Lijiang and your transfer from the airport are not included in the above costs.
Scholarships available. Number of places limited!
Book now!  Contact us
Visa & Transport
Nearest International Airport: KUNMING INTERNATIONAL AIRPORT
Nearest Domestic Airport: LIJIANG AIRPORT
(From Kunming to Lijiang: plane (50 min) or fast train (2h30) – pick up arranged from Lijiang airport or Lijiang train station).
Visa: apply for a tourist visa, please contact us if you need support.
Food: Vegetarian diet with periods of special regenerating and cleansing Yogi Bhajan's diet.