"A fakir, or faqir, derived from faqr (Arabic: فقر‎, "poverty") is a Sufi ascetic who has taken vows of poverty and worship, renouncing all relations and possessions. A fakir is thought to be self-sufficient and possesses only the spiritual need for God." – Wikipedia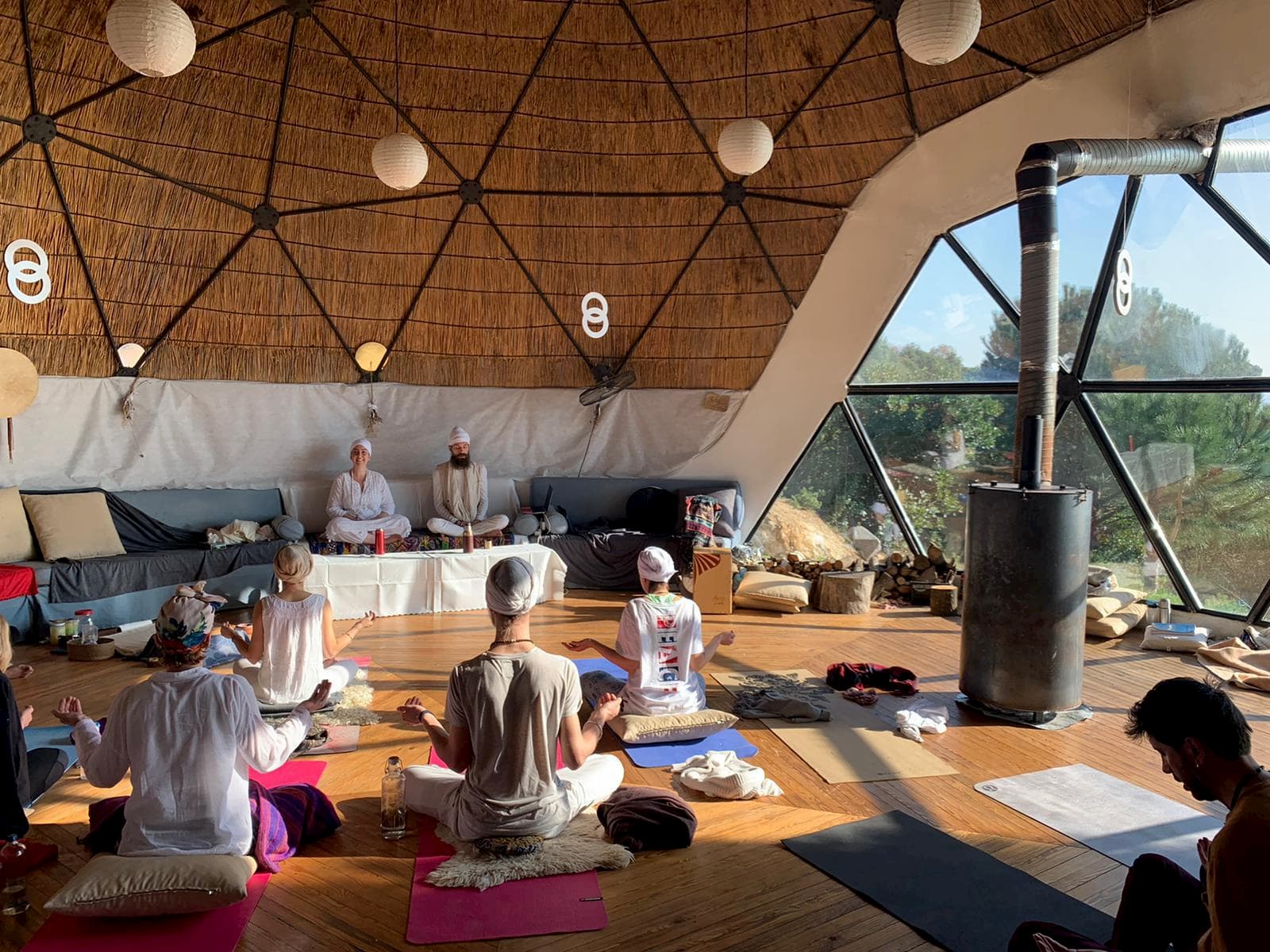 Yazının Türkçe çevirisi aşağıda
Mid-march in Turkey. We head to Bursa, a seaside town where we are hosted by a small permaculture training center nested on a hill, just above the coast.
The intention for this first retreat is quite clear : exploring the Sufi roots of Kundalini Yoga.

At a time when Yogi Bhajan's legacy is challenged, and the man himself is being taken down by the vast majority of his previously devoted followers around the globe, it is a good time to see what is universal and beyond time and space within the Teachings he came to deliver.
The main difference here with a regular kundalini yoga teacher training is the total absence of need to deliver content. We are heading nowhere, the schedule is clearer than the blue sky around us.
Morning sâdhana is lit up by the gentle glow of the full moon, reflected on the water below. The yoga hall where we practice is also quite special : a type of geodesic dome with a very interesting geometrical structure.
Fateh Singh, holding the space for this retreat, begins by asking us all to ask a question : only if the question is clearly enunciated can the teachings manifest themselves to us during the few days we will spend together.
Sufism, just like Kundalini Yoga, is also an approach, a lens we use to access the same universal tantra : the frame that holds together the whole of creation, now, before and after us.
The very first thing we do in the morning is honoring agni, the inner fire, by lighting up an actual fire in a small copper pyramid. After that the space is open to practice kundalini yoga & meditation.
When the sun finally rises it is time for agni hotra, an ancient vedic ritual practiced everyday in the same copper pyramid to clear the subtle space and pray for the sunrise and the sunset. Burning up some sacred cow dung and making offers of rice and ghee with a special mantra is a way to celebrate those two simple but essential events occurring every day.
One very important aspect of this retreat is the idea of satsang: every morning, after breakfast, we all gather round in a circle and share what we went through during the practices and also during the night. Dreams can be indeed very useful to decipher what's happening at a subconscious level within the collective process.
In those circles, the teachings come from everyone's mouth : if I accept to be my own guru, I can also deliver a story or insight that resonates with someone else's personal story or ongoing process. This is how we become sangat : we all become each other's mirror, and we show to each other what we couldn't see for ourselves when we were by ourselves.
Aval Allah Noor Upaya is the shabad (sacred chant) that came up for this retreat. Seeing the light, the noor of Allah (one of the many names of God) in every and each one of us.
This light we shine on each other is such that after a few days everyone's face is different : a new glow, a new quality of presence has taken place. Like the alchemical process of transmuting metal into gold, the subtle layers of our perceptions become gradually more and more accessible to us.
As our eyesights and intuitive senses improve day by day, we begin to see what is really there for us to learn this week :
«  We are all poor. We are all faqirs. We are all beggars. We know nothing. We own nothing. »
Even the concept of home is now deeply questioned : where is home except in the heart ? When we gather like this to sing and meditate together, aren't we all finally coming home ?
This connects us to the old way of living adopted by Sufis and mystics since ages ago : walking alone, attached to nothing, they intuitively aim towards the next meeting point, the next gathering, the unique place in time and space where they can meet with like-minded people, from all traditions, disregarding any religious identification, and just pray, just be, just feel the inner ecstasy of being.
Then, organically, like parts of a living cell that has its own breath, its own rythm, they feel it is time to separate again, without any regrets, and go back to their paths, until the next time they feel the call to meet.
This is the way of the faqirs. a way to the Age of Aquarius, where old structures, old forms, are not relevant anymore. Only the essence remains : we are all One.
Singing together, dancing together, praying together, just breathing together : just ways to celebrate what we all feel deep within. Everything is connected, there is no separation anymore. All duality came from the boxes I tended to put myself into in order to feel safe, accepted, and taken care of.
Now is the time to accept that we are all alone, that we have to be ready, every morning, with every breath, to lose everything we have and know, to empty ourselves, to be ready to receive everything that is there to receive, the countless gifts that rain down on us at every instant. Only if we pay attention and only if we come totally empty-handed can we see and receive those gifts.
There is so much relaxation and gratitude in accepting this simple state of being. No hopes anymore. No expectations.
All those times when we have said «no» to life, resisted what was there, based on what we knew from before and what we expected from the projection of our minds…
There is nothing to « keep up » anymore : victory comes to the one who has nothing to lose, and  even no reasons to win. But if I have nothing to fight for, if I even doubt what I see, what my eyes show me, then what reference do I have left ?
My heart brought me here, so I am burning, without even the illusion of choice anymore.
Just the feeling of being at the right time, at the right place, and completely surrendering to what the moment has to offer. The prayer that comes with this attitude is this simple stance :
« I am all yours, my Lord ».
Now is the time to meet. Now is the time to gather and share this precious vibe.
Now is the time to bathe together in this very simple bliss of being. Now is the time to burn down all attachments to what was, burn from this deep longing we have in common, this deep thirst, this essential will to completely merge.
Next time, come and burn with us.
Aquarian Faqirs
Fakir; tüm ilişki ve sahiplenmelerden feragat ederek, yokluğa ve ibadete yemin etmiş Sufi münzevileri için kullanılan, Arapça'dan türemiş bir kelimedir. Fakir; kendine yetebilen ve sadece ruhsal olarak Tanrı ihtiyacına sahip olan kimsedir.
Mart ortası, Türkiye'de. Bursa'da bir sahil kasabasına geldik. Sahilin hemen yukarısında bir tepeye kurulmuş küçük bir permakültür eğitim merkezi bize ev sahipliği yapıyor.
Bu inziva için niyet oldukça net: Kundalini yoga'da Sufizm köklerini araştırmak.
Yogi Bhajan'ın, büyük çoğunluğu tüm dünyada ona daha önce kendini adamış takipçilerinden oluşan insanlar tarafından aşağı alındığı ve mirasına meydan okunduğu dönem, O'nun teslim etmeye geldiği Öğretiler'de evrensel, zaman ve mekanın ötesinde olan şey neydi görebilmek için iyi bir dönemdir.
Burada klasik bir Kundalini yoga hocalık eğitiminden farklı olan şey içerik üretme ihtiyacının olmaması. Hiçbir yere varmıyoruz ve program etrafımızdaki mavi gökyüzünden daha net.
Sabah sadhanası, altındaki suya yansıyan yumuşak dolunay ışığı ile başlıyor. Pratik yaptığımız yoga mekanı da bir çeşit geodezik kubbe şeklinde, çok değişik ve özel bir geometrik yapı.
Bu inziva için alanı Fateh Singh tutuyor ve bizden soru sormamızı isteyerek başlıyor: Ancak net ve açık sorular belirirse, birlikte geçireceğimiz şu birkaç günde öğretiler kendilerini ortaya koyarlar.
Sufizm, Kundalini Yoga ile aynı evrensel tantraya; şu an, bizden önce ve sonra tüm yaradılışı bir arada tutan çerçeveye bir bakış açısı ve yaklaşımdır.
Sabah ilk yaptığımız şey küçük bir bakır piramidin içerisinde gerçek bir ateş yakarak iç ateş Agni'yi onurlandırmak. Bundan sonra alan Kundalini yoga ve meditasyon pratiğine açılıyor.
Sonunda güneş doğduğunda her gün aynı bakır piramitte alanı temizlemek ve gündoğumu ve günbatımına ibadet etmek için yapılan bir antik vedik ritüel olan Agni Hotra saati geliyor. Hergün olan basit ama elzem bu 2 olayı kutlamak için biraz kutsal inek tezeği, pirinç ve sadeyağ sunularak özel bir mantra eşliğinde yakılıyor.
Bu inzivanın en önemli yönlerinden biri satsang: her sabah, kahvaltıdan sonra, bir çemberin etrafında toplanarak pratikler sırasında ve gece nelerden geçtiğimizi paylaşıyoruz. Toplu süreçte bilinçaltı düzeyinde neler olup bittiğini deşifre edebilmek için rüyalar da çok faydalı olabiliyor.
Bu çemberlerde öğretiler herkesin ağzından dökülüyor: Kendi kendimin gurusu olmayı kabul ediyorum. Benden çıkan hikaye ve içgörü, birinin kişisel hikayesi veya devam eden süreci ile titreşebilir.
Ve böylece 'sangat ' olduk. Yani kendi kendimize olduğumuzda kendimizi göremediğimiz aynaları birbirimize tuttuk, birbirimizin aynası olduk.
Aval Allah Noor Upaya bu inzivanın kutsal şarkısı oldu. Allah'ın nuru ve ışığını hepimizde ve her birimizde görmek.
Birkaç gün sonra birbirimize yansıttığımız bu ışıktan herkesin yüzü farklı görünüyordu: yeni bir ışıltı, mevcudiyete yeni bir kalite geldi. Metali altına dönüştüren simya gibi, algımızın en ince tabakaları aşama aşama kendimize daha ulaşılabilir hale geldi.
Görüşümüz ve sezgisel duyularımız günden güne geliştikçe, bu haftanın bizlere sunduğu gerçek öğretisini görmeye başladık.
'Hepimiz yoksuluz. Hepimiz fakiriz. Hepimiz dilenciyiz. Hiçbir şey bilmiyoruz. Hiçbir şeye sahip değiliz.'
Ev kavramı bile derinden sorgulanmaya başlandı: Kalpte değilse ev nerede? Şarkı söylemek ve meditasyon yapmak için toplandığımızda, sonunda hepimiz eve varmadık mı?
Bu bizi asırlar önce Sufiler ve mutasavvıfların sahiplendiği eski bir yaşam şekline bağladı: Yalnız yürümek, hiçbir şeye tutunmamak, sadece ibadet edebilmek, sadece olabilmek, sadece varoluşun içsel coşkusunu hissedebilmek için her gelenekten,dinsel kimliği gözardı edilerek, benzer fikirli insanlarla buluşulabilecek o zamandaki ve mekandaki eşsiz yere, sonra ki buluşmaya, onlar gibi içgüdüsel olarak bir sonra ki buluşma noktasına yönelmek.
Daha sonra her hücrenin kendi nefesi, kendi ritmi olması gibi organik bir şekilde hiçbir pişmanlık olmadan ayrılma zamanlarının geldiğini anladılar ve bir sonra ki buluşma vaktinin onları çağırdığını hissedene kadar kendi yollarına döndüler.
Bu fakirlerin yolu; artık eski yapıların ve eski formların daha fazla konu ile ilgili olmadığı bir Kova Çağı yolu. Sadece bir gerçek kaldı: Hepimiz biriz.
Beraber şarkı söylemek, dans etmek, ibadet etmek, sadece birlikte nefes almak; hepimizin derinden hissettiği şeyi kutlamanın sadece birkaç yolu. Herşey birbiriyle bağlantılı, artık ayrıştırma yok. Tüm ikilem güvende, kabul edilir ve gözetilir hissetmek için kendimi içine koymaya çalıştığım kutulardan çıktı.
Şu an hepimizin yalnız olduğunu kabul etme, her sabah, her nefesle, sahip olduğumuz ve bildiğimiz herşeyi kaybetmeye, kendimizi boşaltmaya ve almamız için orada olan ve her saniye yağmur gibi üzerimize yağan sayısız hediye ve herşeyi alabilmeye hazır olma anı. Bu hediyeleri sadece dikkat eder ve ellerimizi tamamen boşaltırsak görebilir ve alabiliriz.
Bu basit olma halini kabul etmekte çok fazla rahatlama ve minnet var. Daha fazla umut yok. Beklenti yok.
Hayata 'hayır' dediğimiz tüm o zamanlar, daha önceden bildiklerimiz ve zihinlerimizin yansımalarından umduklarımıza dayalı, orada olana karşı dirençti.
Daha fazla sürdürecek birşey yok. Zafer, kazanma nedeni olmasa bile, kaybedecek birşeyi olmayana gelir. Fakat uğruna savaşacağım birşey olmazsa, kendi gözlerimin bana gösterdiklerinden, gördüklerimden bile şüphe edeceksem, geriye ne referans kalır?
Beni buraya kalbim getirdi. Bu yüzden daha fazla illüzyon seçeneği olmadan yanıyorum.
Sadece doğru zamanda, doğru yerde olma hissi ve anın sunduklarına tamamen teslim olma hali var. Bu tutumla gelen dua, şu basit duruştur:
'Ben tamamen seninim Lordum.'
Şu an buluşma zamanı. Şu an bir araya gelme ve bu değerli titreşimi paylaşma anı.
Şu an varolmanın çok basit mutluluğunda hep birlikte yıkanma zamanı. Şu an her neyse tüm bağları, ortak sahip olduğumuz derin özlemden, derin susamışlıktan yakıp yıkma ve esas olanla tam kaynaşma zamanı.
Bir daha ki sefere gelin ve bizimle yanın.
Kova Çağı Fakirleri